Con Edison Matchmaker - Supplier Participant Instructions
After you access the Con Edison online portal:
Access the Basic Supplier PackageApp on the console

Click on the Search Opportunitiesfunction in the side navigation bar
3. Search ConEdison on the search bar to view postings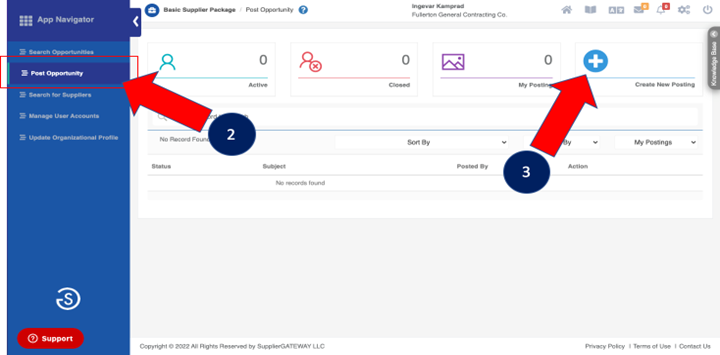 Select View Details under the action column
5. Please click on the "Add" button below if you would like to be considered for this opportunity.

6. You have now added yourself to this posting, and the prospective customer will review and respond to your interest
7. If the prospective customer has chosen to accept your response, you will be notified via push notification on the SupplierGATEWAY App as well as email, that you may now sign up for a timeslot to meet with the prospective customer. While you are awaiting your response, please make sure to download the SupplierGATEWAY App via your apple or google play store.
8. Please select a time slot available
9. Please note time slots are released on a first come first serve basis.
10. Once scheduled you will receive confirmation
11. To join your scheduled meeting time, you can select the Meeting Location icon
12. Once you have joined your meeting session you are complete
Helpful Tips:
Meetings are only 10 minutes long, please make sure to utilize your time wisely and make your point across.
The prospective customer will have a hard stop – so show up early, and be prepared, as they will end exactly on time
The Matchmaker does not guarantee you will have the opportunity to do business with the prospective customer– but it does put you in a 1:1 position with a buyer in an organization, and a chance to provide a sales pitch.
If you are unable to access a meeting time slot, please note the prospective customer will have your contact info they can get ahold of you after if they chose to at their own discretion