Supplier Numbers
Supplier Numbers are required for Supplier Uploads and Tier 1 Spend Uploads. There is not a standard for creating a supplier number. Usually, supplier numbers are created internally and recorded. Once you assign a supplier number to a vendor, please note, you can assign multiple supplier numbers to vendors. There is not a maximum number of supplier numbers that can be assign. You can assign as many as needed to identify a Current Supplier within your system.
To assign a supplier number for a company already in the system:
Go to Supplier Status
Locate the Company
Select the edit button and add or delete a Supplier Number.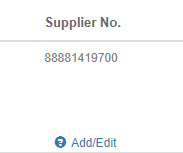 For Companies that are not in the system
Go to Manage System Settings
Click on Add Company As A Supplier.
You will have the option to add your own supplier number to this company OR auto generate a supplier number. It is advised, if you auto generate or get a supplier number from the system, please record this number for your internal records. Please keep all supplier numbers consistent on all of your documents inputted into the system.