ABOUT: Generating Current Supplier Registration Reports
Current Supplier Registration Reports are a great resource to get both demographic, diversity and registration information regarding your Current Suppliers. This information can be used as a tracking guide to monitor your supplier engagement activities.
To download this report, visit <Settings<Manage System Settings and locate Supplier Status. Once you arrive at Supplier Status, locate Current Supplier supplier count in the top left corner of the page. CLICK HERE TO GENERATE A REPORT and the system will provide you with the most up- to date information. The system will send you an email when the report is ready to download.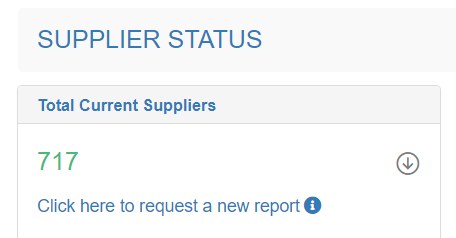 Note depending on the amount of suppliers that you have in your system, this can take a couple of hours per 1k suppliers to 24 hours for over 10k suppliers.