Managing User Accounts
The Manage User Accounts tool is an administrator function used to control the following actions:
Create new users (individually or in bulk)
Assign users to a role (e.g., Admin, User)
Manage functions that users can access within a role (e.g., search, access virtual payments etc)
Add new roles (You can create your own custom roles)
Assign functions to roles (You can decide what each role is allowed to do)
Suspend or terminate Users
UNDERSTANDING THE CONSOLE
User View
The console default view is the "user view". By default, the console lists users in the organization who have standard roles assigned (i.e., Admin or User).
Add New Users
To add users, click on the add new accounts icon

Complete the user information in the form and remember to make sure all required fields are properly filled out.
Adding Multiple Users
If you have multiple users to add, you may upload using a text file and create multiple accounts at once. Please review the bulk upload instructions for more detailed information.
Filters
You can use the dropdown filter to view users with no roles assigned, or if you have defined them, users with custom roles. You can also filter your view based on the status of the users.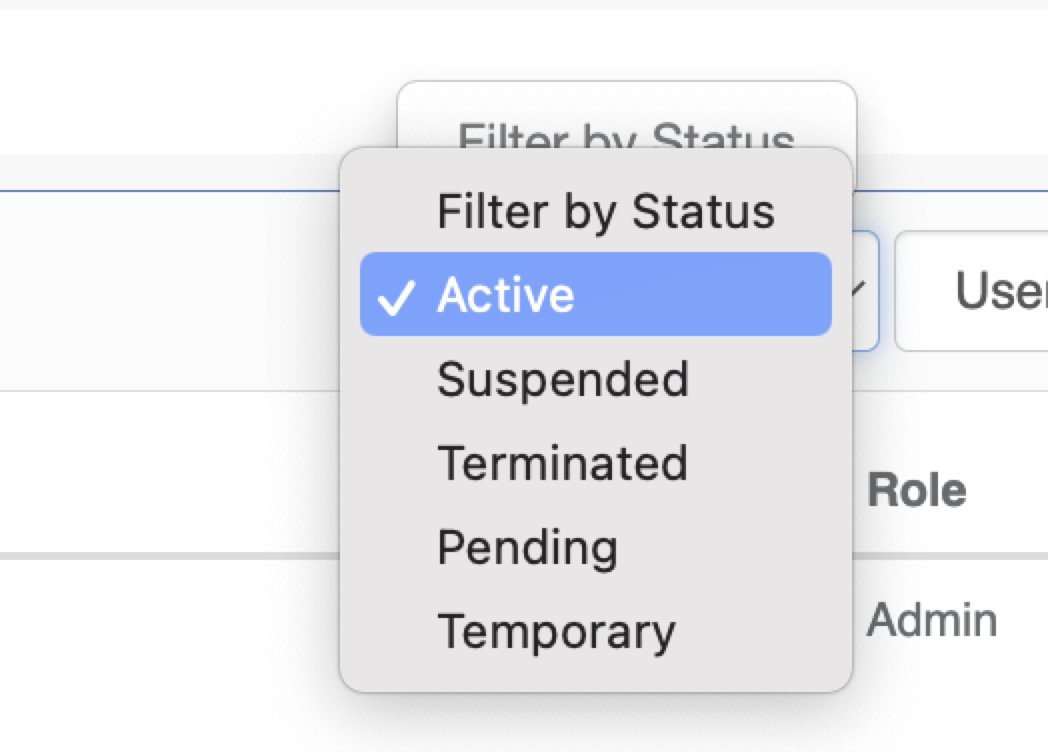 Managing Individual User Permissions
Each of the icons adjacent to a user represents different ways to change or manage user permissions. The icons are as follows:
| | | |
| --- | --- | --- |
| Icon | Action | Purpose |
| | Edit User | Edit user profile details |
| | View user log details | View logs of user access to the system |
| | Edit permissions | Change what the user can do in the system |
| | Manage workflow assignments | Assign user to workflow steps. Only applies when workflows are in use (onboarding, compliance etc) |
| | Remove user from role & remove all permissions | Removing user permissions. |
Switching to the Role View
Click on the role view icon to manage and administer user roles
Managing Role Characteristics
Each of the icons adjacent to a user represents different ways to change or manage role behavior. The icons are as follows:
| | | |
| --- | --- | --- |
| Icon | Action | Purpose |
| | Assign new users to role | Add individual users to roles |
| | Assign features | Define which features will be accessible to users in each role |
| | Edit role details | Change name for the role |
| | Delete role | Assign user to workflow steps. Only applies when workflows are in use (onboarding, compliance etc) |