ABOUT: Generating a Tier I Ad Hoc Report
The Tier 1 Ad hoc is a report where you report your internal diverse expenditures.
To start this process, you will need to have:
1) Tier 1 expenditures
2) Supplier Numbers of the companies that you would like to report against
3) Spend Date
Once you have this information, upload this via the Tier I Upload Console. You will need to transfer the above requirements to the template provided. After your spreadsheet is complete, utilize the Tier I Upload Console and upload your expenditures.

To get your output report, visit Tier I Home and locate Ad Hoc Report Console. Here you can generate many types of reports. Reports can cover everything from Business Classification, Diversity, Location and more. There is also an option to generate a Custom Report that allows you to set up a Hierarchical rank for your diversity classifications.+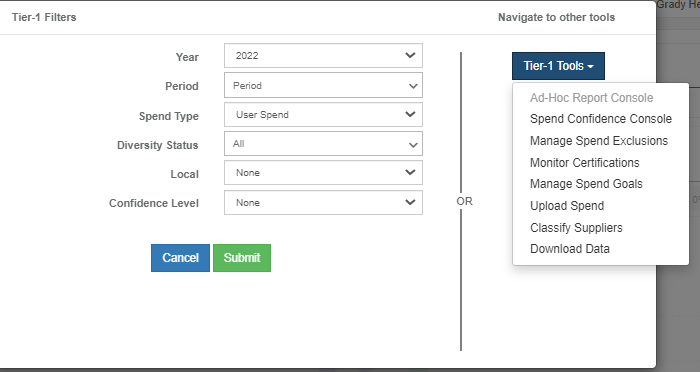 To generate a Tier 1 Ad Hoc, make a selection based upon the filter options provided. You can either simply choose reporting period, year and reporting format OR you can specify filters that you want to see while excluding other criteria. One you select your Reporting format, CLICK "Generate Report". The expenditures will appear, review and SELECT "Request Excel Report". Your report will generate. Once it ready for download, an email will be sent to you.