How to update AB962 program information
The AB962 reporting process requires the entry of some basic program information, such as your Supplier Diversity Policy Statement, and some other questions about how you encourage and promote supplier diversity. The function for updating the information needed is straightforward to use and is illustrated below.
Access the Tool
The function for entering policies and statements is in the upper section of the Compliance Reporting console as shown in the red outlined area below
Click on the edit Link
Click on the edit icon to open the data entry window.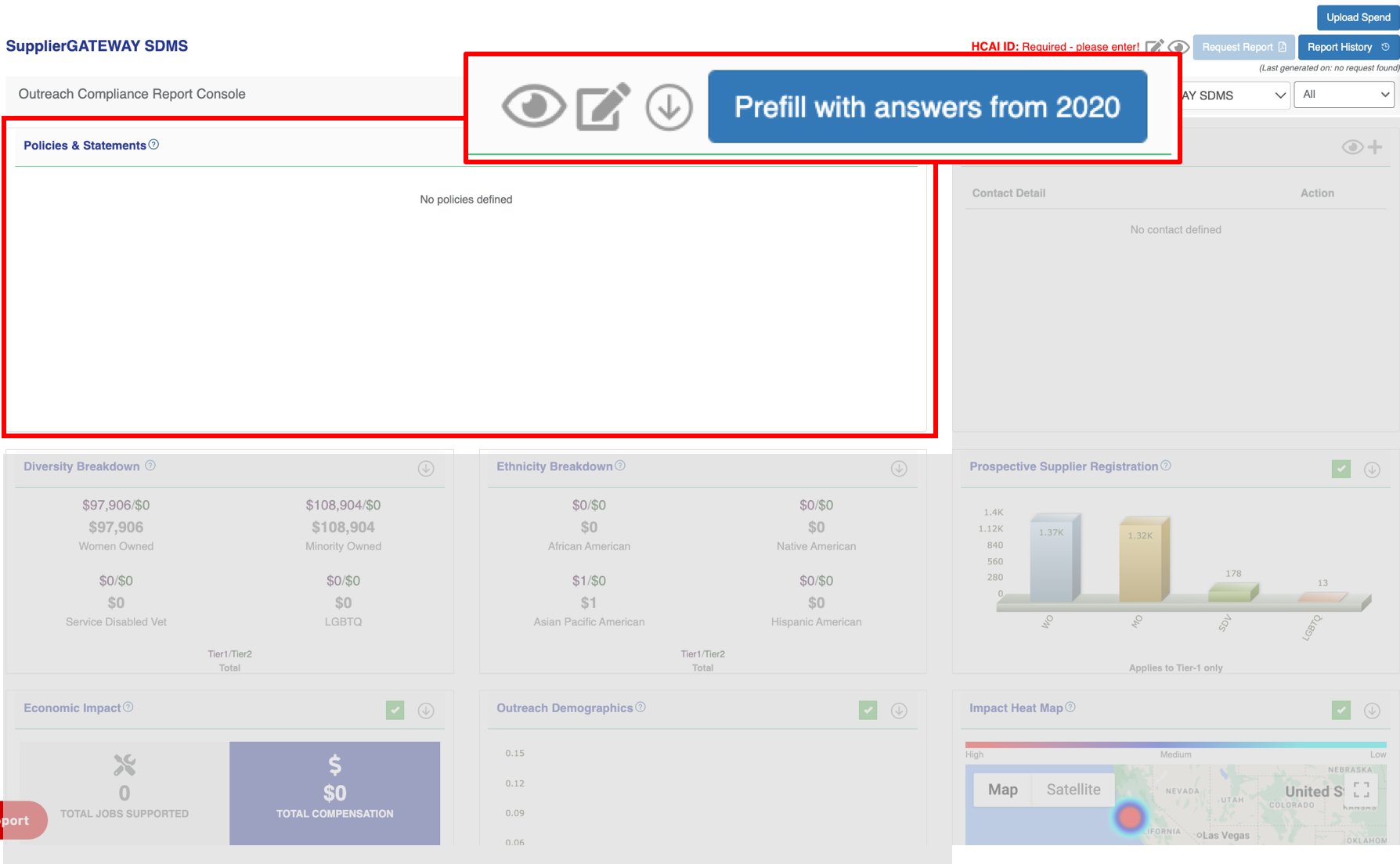 Using your statements from the prior year as a starting point
If you have completed statements in the system before, you can copy the statements from the prior year as a starting point. If nothing has changed, you are almost done! We recommend you reread the statements anyway as you may have new developments that you don't want to leave out.

Getting help and inspiration
Some of the questions may be new or not previously responded to – especially if this is your first time completing the AB962 report. You can click on the [learn more] links to view information that you may find helpful.
Also notice that the toolbar provides functions to format your entry. The SupplierGATEWAY platform includes an option to create a more presentation friendly version of the report, so you can highlight and format your information using these tools. This may be important if you intend to publish your HCAi report on your health systems website as part of your Supplier Diversity outreach and public information about your program
Saving your work
Remember to click on the Save button on the bottom right hand corner of your data entry window.
Previewing your work
The preview icon gives you a clear idea of how your policy and program statements will look in the output report.
Adding & Updating Program Contacts
This is exactly what it sounds like – you are providing information about the Supplier Diversity program contact(s) for your organization. You may add more than one contact if your organization is set up that way. This is an important piece of information as the program contact is the first point of entry for suppliers wanting to know about your organization's supplier diversity program.
Click on the Add icon to add a new program contact or the edit icon to edit an existing contact.