Generating a new AB962 report to submit to HCAi
Now that you have all of your AB962 information ready, its checklist time...
Checklist
Tier-1 spend loaded, enriched and ready - Check
Tier-2 data collected - Check
Program and policy statements entered - Check
Diversity contacts updated - Check
Looks like everything is ready to go - It's now time to generate your AB962 report.
One time task - Entering HCAi ID(s)
There's a bit of housekeeping of this is your first time submitting AB962 in the SupplierGATEWAY system. You will need to provide the 9 digit HCAi ID for your health system (if you are submitting for the whole health system, OR you will need to update the HCAi ID's for each of the hospitals in your health system.
To enter HCAi ID(s)' click on the edit link near the disabled generate report button. The button is disabled because we need an HCAi ID to prepare your report to meet the requirements of the HCAi.
There are two options:
Enter a single ID for your health system
Click on the blue "Load Hospitals HCAi" link to enter multiple ID's for all of your facilities
Entering HCAi ID for the system
Entering HCAi ID's for multiple facilities.
If you are not sure what your HCAi Id's are, there is a link in the tool which takes you to the HCAi website to lookup the ID's.
Request Report
Now your ID's are in – it's time to request the report. There are two options for generating reports:
Click on the blue Request Report button. The console will that opens will provide you with both options:
Submitting a report for the whole system
Submitting reports for individual facilities
Selecting Output Options
There is one last decision – how you would like the data output. The default is via .csv file which will be generated for a system report or for individual facility reports (it's always one .csv file). You also have the option of selecting a simple PDF file in the state format and/or a SupplierGATEWAY formatted PDF which contains the same information but in a slightly more presentable form.

Note: All 3 file types satisfy the requirement but the CSV is the easiest way to create a single file to upload into the HCAi reporting system.
Retrieving your results - email
Once the reports are ready, you will receive an email letting you know your results are ready – the email will also contain the .csv file, and if you selected the PDF options, the PDF file or Zip file containing multiple PDF's (if you opted to get results for each facility)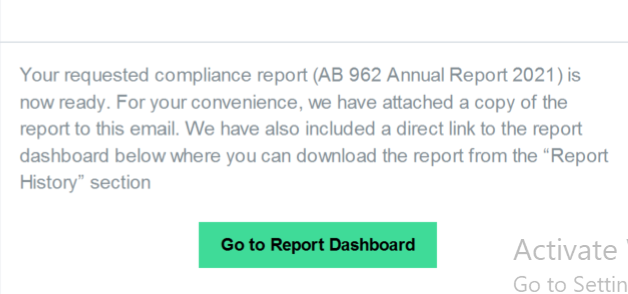 Retrieving your results – in the tool
You can access the system at any time to pull reports you have generated – although old reports will be deleted from the system after 30 days (but you can always regenerate reports anytime)
Click on the file icon to download